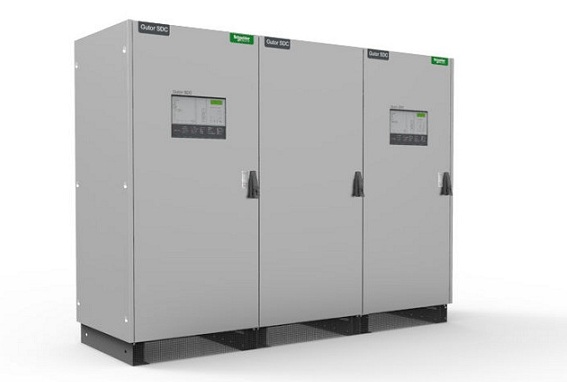 01.
STE thyristor controlled rectifiers use advanced digital control technology with user- friendly operation, flexible interfaces with state of art control features, options of touch screen and text display, 6/12 pulse thyristor bridge, a mains isolation transformer, standard alarms and meters etc. As they have an advance DC regulator for all the rating, there is no dropping diode for online charge boosting Rating From 5A up-to 3000A (24, 48, 110, 220, 360) VDC system.
02.
Pure sine wave output
Wide input range with 6 step AVR
5 stage charger system that ensures faster charging and lower battery heating
Phase synchronized transfer
Ultra fast transfer routine
Zero current relay switching for better relay life
Zero battery drain in off mode
Auto recharge and night guard on mains recovery
Fully programmable all set points, and parameters can be programmed by you
Computer communication enabled, real time data transfer to a host computer through RS232 (optional)
03.
Substation Batter Chargers are widely used in various industries and educational Institutes. The output voltage produced by our DC power supply ranges from 0 to 1000 V and output current ranges from 0 to 100 Amp. Our power supply is provided with Digital Panel Meters for voltage and current. Additionally, equipped with power supply overload and short circuit protection.
Features :
Short circuit protection
Power supply overload
Low on maintenance
Functions :
SAITECH Fcbc/Industrial/Substation are designed to supply continuous power to the DC load and simultaneously charge the batteries connected
Input supply form 415 V. AC 3 Phase or 220 V. AC 1 Ph. is converted to regulated DC
The charger has two independent systems
Normally the DC power is supplied to the load by the Float Charger
It also supplies trickle current to the battery to keep it healthy
If the charging current under Float Mode exceeds a set level, Boost charger is switched ON
It supplies Quick charging current to the battery
On battery reaching the set value, the Boost Charger is switched OFF
Optional Features like Voltage and current variable
Applications :
Float/ Boost chargers are must in Power Substations, Generating Stations, Telephone Exchanges etc. for control / monitoring systems, tripping circuits and suppyling DC power source
Specifications :
Aux: 415V. AC ( 3 Phase) / 240 V (1 Phase) +/- 20 %/ +/- 10%, 50 Hz. +/- 3 Hz
Output: 30 V, 48 V, 110 V and 220 V. DC supply
Battery Type: Lead Acid / SMF
Indications: Indication for Mains supply, Float Charging, Boost Charging, AC Volt meter optional, DC Volt meter, DC Fail, AC Fail alarm, DC Amps meter for load optional, DC Amps meter for Charging
Protection: Circuit Breaker for Mains incoming supply, Circuit Breaker for out put load, Over load Protection, AC short circuit protection, Battery reverse Polarity, Low & high voltage Protection
Housing and enclosure: Heavy duty Sheet Steel Enclosure, Finished with Powder Coated paint
Mounting: Floor mounting
Operation: Auto/Manual
Control: CC/ CV close loop
Rectifier: Full wave half controlled bridge
Optional: Fuse protection for each rectifier element, Fuse failure relay, DC Earth Fault Relay, Alarm Annunciation, Dual Float Charger option, Any other as per requirement
Sample datasheet of substation charger unit 48V click here
Sample datasheet of substation charger unit 30V click here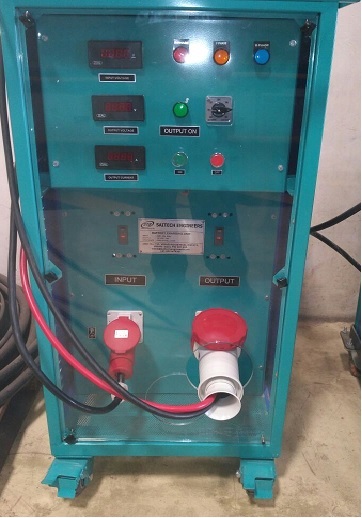 04.
Pioneers of Metro Worldwide trust SAITECH for their battery charging requirements. Our compact chargers replace the bulky designs of the past to provide smooth trouble free operation. Specifications of the exisiting unit used by our customers in the locomotive sector are as under:
Input : 415 V 50Hz
Output: 110V 50 A
Type: Two Stage Thyristorised Battery Charging Unit
For full sample specs of Metro-Railway Battery Charger click here
05.
Universal / wide input range (85 – 270V OR 170 – 270V rms, 50/60Hz, single phase).
Excellent line & load regulation.
Low ripple & noise.
Over voltage / overload / short circuit protected.
Battery reverse polarity protection.
CVCC, 2 – step battery charging.
Option available for analog / digital meters.
Rugged design & Engineers for continuous use.
For full sample specs of our SMPS Charger Unit click here